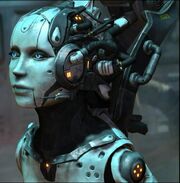 Adjutants are a form of non-sapient artificial intelligence utilized by the terrans of the Koprulu sector and United Earth Directorate.
Overview
[
]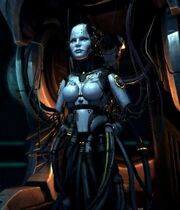 Adjutants are sometimes simply addressed as "computer",[1][2] though they're physically humanoid in design.[3] Significant portions of the original ATLAS coding and functionality still exist in them.[4] Terran commanders understand the value that adjutants bring, as their ever-present gaze over the field of battle offers a strategic edge, and helps commanders keep their troops in line.[5] Their functions include navigation,[2] administration,[6] decryption,[7][8] presenting history,[9][10] acting as advisers for terran commanders,[11] storing recipes[12] and storing data. When playing an audio feed, their voices adjust to match the speaker(s).[13][14]
Other Information
[
]

This following section contains information from concept art that may not be canonical.

Heat sinks are located on the back of the adjutant's head. When performing complex calculations, steam can be seen rising off of the 'fins' there.[15]
In the past, adjutants were cybernetic, possessing organic components. In contrast, modern adjutants are entirely synthetic.[16] While adjutants are designed to be appealing to the terran eye, they're bereft of social skills; akin to a terran with Aspergers. They were intentionally designed to fall into the uncanny valley.[15]
An adjutant can function for decades, but their AI can break down and become erratic over extended service. They can enter a "repair mode" if needed.[17]
Game Effect
[
]
StarCraft
[
]
In StarCraft, the adjutant serves as the terrans' racial icon, and as the adviser in-game.
StarCraft: Ghost
[
]

This article or section contains information about StarCraft: Ghost, which has been declared non-canon. Elements may be taken as 'flavor lore' however.
The content may be significantly out of date. Please do not add speculation to this article, and remember to cite a published source for details.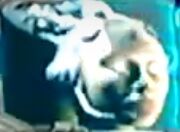 An adjutant would brief Nova in mission briefings in StarCraft: Ghost[18] and provide support on missions.[19]
StarCraft II
[
]
In StarCraft II, the adjutant remains as the terrans' racial icon and adviser. The adjutant portrait is available upon completion of the Mar Sara Mastery achievement. They are the de facto announcer for terrans in multiplayer, and also serve as the portrait for the AI in multiplayer (as displayed on loading screens).
It is voiced by Julianne Buescher.[20]
Heroes of the Storm
[
]
The adjutant serves as the map adviser of Warhead Junction in Heroes of the Storm, and as a secondary adviser for Braxis Holdout. It is also unlockable as an announcer.[17]
Known Adjutants
[
]
Notes
[
]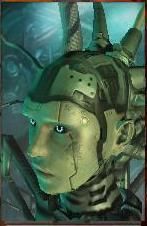 Lemon Chicken
[
]
If a player waits long enough in the briefing of Boot Camp, an adjutant will ask the magistrate if he's all right. Eventually, the adjutant will deliver a recipe for Chinese lemon chicken, which is as follows:[12]
1 pound sliced chicken breast
1 teaspoon of corn starch
3 teaspoons of soy sauce (dark)
1 sliced lemon[12]
Images
[
]
References
[
]