This article or section contains information about StarCraft: Ghost, which has been declared non-canon. Elements may be taken as 'flavor lore' however.
The content may be significantly out of date. Please do not add speculation to this article, and remember to cite a published source for details.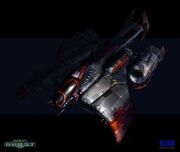 The assault dropship is a terran aerospace transport.
Assault dropships are both numerically designated[1] and given full names.[2] They are seemingly capable of traveling through warp space and are capable of landing underwater.[3] They are also capable of being armed with twin rotary cannons.[4]
Game Vehicle
[
]
The assault dropship appeared in early versions of StarCraft: Ghost.[5] The role of an armed dropship was later fullfilled by the Grizzly.[6]
Known Assault Dropships
[
]
Images
[
]
References
[
]