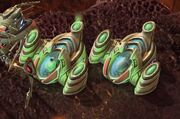 The assimilator is a protoss building used for harvesting vespene gas. Although materials were usually warped in from Aiur, vespene is still required for these materials to be produced and the creation of warp rifts.[1]
Tal'darim assimilators wretch vespene gas from the ground, triggering earthquakes and decimating surrounding ecosystems.[2]
Game Structure
Edit
StarCraft
Edit
An assimilator must be warped in on top of a vespene geyser before probes can collect vespene gas from it, packaging the gas for collection.[1] A probe can gather 8 gas in a single run.[3]
Development
Edit
The following section contains information from a previous version of StarCraft beta which is no longer valid.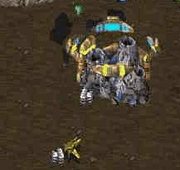 During the StarCraft beta, assimilators possessed a different appearance from their final version.[4]
StarCraft II
Edit
The assimilator remains much the same as its predecessor in StarCraft. Probes now gather 4 gas in one run. In addition, the assimilator no longer yields any gas when it is depleted.
Legacy of the Void
Edit
In the StarCraft II: Legacy of the Void, once tier 3 of the solar core is unlocked, assimilators can be upgraded into orbital assimilators for 25 solarite. Orbital assimilators harvest gas automatically.
Co-op Missions
Edit
In Co-op Missions, Vorazun gains the orbital assimilator upgrade at level 2, allowing her to automatically harvest vespene gas. Zeratul gains access to the ancient assimilator, which autmoatically harvests gas and automatically begins construction when an ancient nexus is built.
Development
Edit
The following section contains information from a previous version of StarCraft II which is no longer valid.
The assimilator's StarCraft II form went through a few revisions before the designers decided upon the current version in-game. The intention for the update was to showcase the functionality a little better by actually seeing the little gas cubes being manufactured inside.[5] The final form is effectively a dome that covers a vespene geyser, with a crater visible inside.[6]
Heart of the Swarm Notes
Edit
Heart of the Swarm beta files mention a terrazine assimilator.[7]
References
Edit
Community content is available under
CC-BY-SA
unless otherwise noted.