Atrias is a planet formerly inhabited by the xel'naga.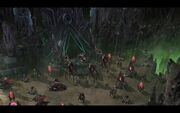 In antiquity, the xel'naga visited the world, constructing a temple on the planet's surface. This temple would later be occupied by Tal'darim loyal to Amon.[1] It was here that the Tal'darim's god was revived by Emil Narud.[2]
By 2506, the world was in its death throes, in a state of constant eruption. Fissures ran across its surface, and vespene gas was flung to the surface in periodic bursts. Protoss Protectorate forces moving against the Tal'darim were forced to scavenge what vespene they could as part of their assault.[1]
References
Edit