You may be looking for: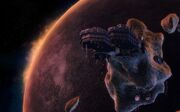 Avernus Station is a space station situated in or near the Koprulu Sector.
History
[
]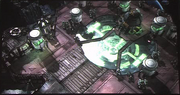 The station was built on mineral and vespene gas deposits. By the Brood War, some deposits were depleted.[1]
During the Second Great War, Gabriel Tosh, an anti-Dominion spectre, sought to establish a spectre training facility on the station. It used jorium and terrazine stocks and a psionic waveform indoctrinator.[2]
The spectre training facility was destroyed by Nova Terra and Raynor's Raiders.[2]
Tosh escaped the raid but was assassinated shortly afterwards by Nova.[3]
Plot branch ends here
Trivia
[
]
The station originally shared the same design as Erebus Station.[4]
With the release of the board game however, it was given its own design.
Images
[
]
References
[
]