You may be looking for:
"Where people come first."
- Backwater Station slogan(src)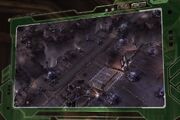 Backwater Station was a town on Mar Sara.
It is situated in a small valley in the Hinterland,[1] south of Mount Jacobs and northeast of the Dust Bowl.[2]
Great War
Edit
During the Great War, Backwater Station was a military base. A Confederate command center was located on an adjacent ridge to the east, although whether this can be considered part of the station proper or not is speculative, given its isolation and that it didn't appear on any maps of the area.[1]
On December 13, 2499, Backwater Station came under attack by the zerg. Its personnel took cover in bunkers. The station was saved by Marshal Jim Raynor and local militia forces sent in by the Colonial Magistrate. They were arrested by General Edmund Duke on the pretext of destroying Terran Confederacy property.[3]
Second Great War
Edit
Liberation Day
Edit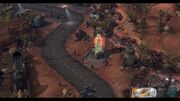 Backwater Station became the center of Terran Dominion logistics on Mar Sara when Dominion forces set up a logistics headquarters in the town.[4] The Dominion forcibly shipped citizens from there to excavate a xel'naga artifact at White Rock Base.[5] The people of Backwater Station were anti-Dominion, but lacked weapons and organization. In 2504, shortly after the Dominion pulled troops out of the city, Raynor's Raiders moved to destroy their authority there. The locals assisted Raynor in destroying the logistics headquarters.[4] Raynor seized weapons and distributed them to the local populace.[6]
Zero Hour
Edit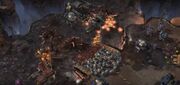 The zerg landed on Mar Sara as Raynor and Tychus Findlay waited for transport off-world at Backwater Station. Raynor and his marines manned bunkers and held two bridges long enough for them to be extracted by the Hyperion.[7]
Known Locations
Edit
References
Edit
Community content is available under
CC-BY-SA
unless otherwise noted.