m

(clean up, typos fixed: $100 USD → US$100)

 

Line 1:
Line 1:
−

'''BlizzCon 2008''' was announced on May 12th, 2008 by Blizzard. It was held at the Anaheim Convention Center in Anaheim, California on October 10 and 11. In response to the demand to accommodate more attendees, that year's event expanded from two convention halls to three.<ref name = "Blizz2008">2008-12-05, [http://www.blizzard.com/us/press/080512.html Blizzcon 2008 Announced]. ''Blizzard Entertainment''. Accessed on 2008-12-05</ref>

+

'''BlizzCon 2008''' was announced on May , 2008 by Blizzard. It was held at the Anaheim Convention Center in Anaheim, California on October 10 and 11. In response to the demand to accommodate more attendees, that year's event expanded from two convention halls to three.<ref name = "Blizz2008">2008-12-05, [http://www.blizzard.com/us/press/080512.html Blizzcon 2008 Announced]. ''Blizzard Entertainment''. Accessed on 2008-12-05</ref>

 
 
 

Highlights for BlizzCon 2008 include;

 

Highlights for BlizzCon 2008 include;

Line 15:
Line 15:
 

Tickets for BlizzCon went on sale at a price of $100 USD per person starting August 11, 2008. As the event draws closer, further details will be announced on the [http://www.blizzcon.com official BlizzCon website].

 

Tickets for BlizzCon went on sale at a price of $100 USD per person starting August 11, 2008. As the event draws closer, further details will be announced on the [http://www.blizzcon.com official BlizzCon website].

 
 
−

A build of ''StarCraft II'' was available at BlizzCon.<ref name = "Shack?>2008-30-08, [http://www.shacknews.com/onearticle.x/54504 StarCraft 2 Update: Balancing Concerns, and the Future of Multiple Building Selection]. ''Shacknews''. Accessed on 2008-31-08</ref> In addition, keys were given out<ref>[http://www.blizzard.com/blizzcon/recaps/dayone.xml BlizzCon 2008: Day One Wrap-Up]. ''Blizzard Entertainment.'' Accessed 2008-10-17.</ref> which gave access to [[beta key]]s as of March 2009.<ref name = "BC08key">Karune. 2009-03-23. [http://forums.battle.net/thread.html?topicId=15864448985&sid=3000 How to use your BlizzCon 2008 Keys for SCII]. ''Battle.net StarCraft II General Discussion Forum.'' Accessed 2009-03-23.</ref>

+

A build of ''StarCraft II'' was available at BlizzCon.<ref name = "Shack?>2008-30-08, [http://www.shacknews.com/onearticle.x/54504 StarCraft 2 Update: Balancing Concerns, and the Future of Multiple Building Selection]. ''Shacknews''. Accessed on 2008-31-08</ref> In addition, keys were given out<ref>[http://www.blizzard.com/blizzcon/recaps/dayone.xml BlizzCon 2008: Day One Wrap-Up]. ''Blizzard Entertainment.'' Accessed 2008-10-17.</ref> which gave access to [[beta key]]s as of March 2009.<ref name = "BC08key">Karune. 2009-03-23. [http://forums.battle.net/thread.html?topicId=15864448985&sid=3000 How to use your BlizzCon 2008 Keys for SCII]. ''Battle.net StarCraft II General Discussion Forum.'' Accessed 2009-03-23.</ref>

 
 
−

===Events===

+

==Events==

−

*StarCraft II Gameplay (Friday October 10th, 3:00 PM PST)

+

*StarCraft II Gameplay (Friday October , 3:00 PM PST)

−

*StarCraft II Art (Friday October 10th, 4:30 PM PST)

+

*StarCraft II Art (Friday October , 4:30 PM PST)

−

*StarCraft Lore (Saturday October 11th, 12:00 PM PST)

+

*StarCraft Lore (Saturday October , 12:00 PM PST)

 

*Blizzard Cinematics

 

*Blizzard Cinematics

 

*Blizzard Sound and Music<ref>[http://www.blizzard.com/blizzcon/panels/index.xml BlizzCon 2008]. ''Blizzard Entertainment.'' Accessed 2008-08-10.</ref>

 

*Blizzard Sound and Music<ref>[http://www.blizzard.com/blizzcon/panels/index.xml BlizzCon 2008]. ''Blizzard Entertainment.'' Accessed 2008-08-10.</ref>

 
 
−

===Schedule and Floorplan===

+

==Schedule and Floorplan==

 

*[http://www.blizzard.com/blizzcon/faq/schedule.xml Event Schedule]

 

*[http://www.blizzard.com/blizzcon/faq/schedule.xml Event Schedule]

 

*[http://www.blizzard.com/blizzcon/maps/floorplan.xml Floor Plan]

 

*[http://www.blizzard.com/blizzcon/maps/floorplan.xml Floor Plan]

 
 
−

===Live Viewing===

+

==Live Viewing==

−

====WoW Radio====

+

===WoW Radio===

 

[http://www.wcradio.com WoW Radio] will be streaming BlizzCon's announcements and panels live and for free. Afterwards the material will be packaged into podcasts for later downloading and listening.<ref>Medievaldragon. 2008-09-24. [http://blizzplanet.com/news/2748/ BlizzCon Live Stream !!!] ''Blizzplanet.'' Accessed 2008-10-07.</ref><ref>TotalBiscuit. 2008-09-23. [http://www.wcradio.com/archives.php?selectArchive=1236&autoplay=1 WoW radio podcast]. ''WoW Radio.'' Accessed 2008-10-07.</ref>

 

[http://www.wcradio.com WoW Radio] will be streaming BlizzCon's announcements and panels live and for free. Afterwards the material will be packaged into podcasts for later downloading and listening.<ref>Medievaldragon. 2008-09-24. [http://blizzplanet.com/news/2748/ BlizzCon Live Stream !!!] ''Blizzplanet.'' Accessed 2008-10-07.</ref><ref>TotalBiscuit. 2008-09-23. [http://www.wcradio.com/archives.php?selectArchive=1236&autoplay=1 WoW radio podcast]. ''WoW Radio.'' Accessed 2008-10-07.</ref>

 
 
−

====DirecTV====

+

===DirecTV===

 

Blizzard Entertainment and DirecTV showed 16 hours of Blizzard game events live at BlizzCon. Fans who subscribed to DirecTV through Blizzard's special offer were able to watch the live coverage for free.<ref>Medievaldragon. 2008-08-08. [http://blizzplanet.com/news/2616/ BlizzCon 2008 On DIRECTV Pay-Per-View]. ''Blizzplanet.'' Accessed 2008-08-10.</ref>

 

Blizzard Entertainment and DirecTV showed 16 hours of Blizzard game events live at BlizzCon. Fans who subscribed to DirecTV through Blizzard's special offer were able to watch the live coverage for free.<ref>Medievaldragon. 2008-08-08. [http://blizzplanet.com/news/2616/ BlizzCon 2008 On DIRECTV Pay-Per-View]. ''Blizzplanet.'' Accessed 2008-08-10.</ref>

 
 
−

===Videos===

+

==Videos==

−

====StarCraft II Videos====

+

===StarCraft II Videos===

 

[[File:STARCRAFT 2 'Opening Cinematic' Teaser HD (BlizzCon 08)|425px]]

 

[[File:STARCRAFT 2 'Opening Cinematic' Teaser HD (BlizzCon 08)|425px]]

 
 
−

====Trilogy Announcement====

+

===Trilogy Announcement===

 

[[File:STARCRAFT 2 'Trilogy Announcement' Conference (BlizzCon 08)|425px]]

 

[[File:STARCRAFT 2 'Trilogy Announcement' Conference (BlizzCon 08)|425px]]

 
 
−

====Sarah Kerrigan Cinematic====

+

===Sarah Kerrigan Cinematic===

 

[[File:STARCRAFT 2 'Kerrigan Storyboards' Feature HD (BlizzCon 08)|425px]]

 

[[File:STARCRAFT 2 'Kerrigan Storyboards' Feature HD (BlizzCon 08)|425px]]

 
 
−

====Wings of Liberty====

+

===Wings of Liberty===

 

[[File:STARCRAFT 2 'Bar Reunion' Cinematic HD (BlizzCon 08)|300px]]

 

[[File:STARCRAFT 2 'Bar Reunion' Cinematic HD (BlizzCon 08)|300px]]

 

<youtube width="300">OhKaHvz5DE4</youtube>

 

<youtube width="300">OhKaHvz5DE4</youtube>

Line 54:
Line 54:
 

<youtube width="300">wWv1ziDkLo4</youtube>

 

<youtube width="300">wWv1ziDkLo4</youtube>

 
 
−

====Sonkie vs Yellow====

+

===Sonkie vs Yellow===

 

[[File:Blizzcon Match 1 - SC2 - Yellow vs Sonkie 1 2|300px]]

 

[[File:Blizzcon Match 1 - SC2 - Yellow vs Sonkie 1 2|300px]]

 

[[File:Blizzcon Match 1 - SC2 - Yellow vs Sonkie 2 2|300px]]

 

[[File:Blizzcon Match 1 - SC2 - Yellow vs Sonkie 2 2|300px]]

Line 62:
Line 62:
 

==References==

 

==References==

 

{{ref|scroll=x}}

 

{{ref|scroll=x}}

−

[[Category: BlizzCon]]

+

[[Category:BlizzCon]]
---
Latest revision as of 18:08, 3 January 2019
BlizzCon 2008 was announced on May 12, 2008 by Blizzard. It was held at the Anaheim Convention Center in Anaheim, California on October 10 and 11. In response to the demand to accommodate more attendees, that year's event expanded from two convention halls to three.[1]
Highlights for BlizzCon 2008 include;
Hands-on play time with upcoming Blizzard Entertainment releases
Discussion panels with Blizzard Entertainment developers
Competitive and casual tournaments for players to showcase their talents
Areas and activities devoted to licensed products such as the World of Warcraft® Trading Card Game
Costume, machinima, and character sound-alike contests with great prizes
Commemorative merchandise based on the Blizzard Entertainment franchises
A silent auction
Samwise Didier and Dustin Browder explained the unit-creation process.[2]
Tickets for BlizzCon went on sale at a price of $100 USD per person starting August 11, 2008. As the event draws closer, further details will be announced on the official BlizzCon website.
A build of StarCraft II was available at BlizzCon.[3] In addition, keys were given out[4] which gave access to beta keys as of March 2009.[5]
StarCraft II Gameplay (Friday October 10, 3:00 PM PST)
StarCraft II Art (Friday October 10, 4:30 PM PST)
StarCraft Lore (Saturday October 11, 12:00 PM PST)
Blizzard Cinematics
Blizzard Sound and Music[6]
WoW Radio will be streaming BlizzCon's announcements and panels live and for free. Afterwards the material will be packaged into podcasts for later downloading and listening.[7][8]
Blizzard Entertainment and DirecTV showed 16 hours of Blizzard game events live at BlizzCon. Fans who subscribed to DirecTV through Blizzard's special offer were able to watch the live coverage for free.[9]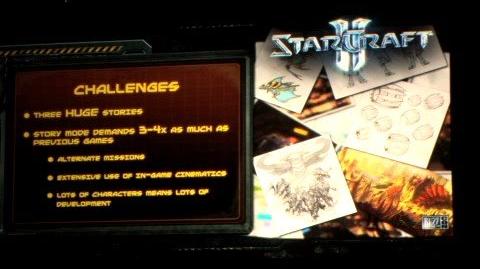 Community content is available under
CC-BY-SA
unless otherwise noted.