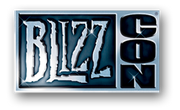 BlizzCon 2009 was held in Anaheim, California August 21st and 22nd 2009.[1]
Tickets went on sale May 16th and another batch were available on May 30th.[2]
The winner of the theme park contest were given the chance to display their work there.[3]
There were StarCraft II beta opportunities there.[4] However, the cards did not come with beta keys.[5]
Gameplay
The creators of StarCraft II discuss the design process and evolving mechanics of the upcoming real-time-strategy sequel.
Lore
The writers who shape the ever-expanding StarCraft universe bring you up-to-date on the defining characters and events in the interstellar struggle between the Terrans, Protoss, and Zerg.
Art
Join Blizzard Entertainment artists for a discussion about the distinctive art style of the StarCraft universe -- and how that style continues to evolve with the development of StarCraft II.[6]
Not only was StarCraft II be available, but part of the single-player mission will be playable as well.[7]
Tournaments
Edit

July 30, 2009—BlizzCon Tournament Coverage Streaming
We are pleased to announce that this year, for the first time, all of our streaming tournament coverage for BlizzCon will be available in both high-resolution and low-resolution formats, and you can choose whichever fits your available bandwidth. The BlizzCon website will host one stream featuring StarCraft and Warcraft III events and another dedicated to World of Warcraft. As in previous years, all of this streaming tournament coverage will be provided free of charge. Be sure to tune in to find out which teams and players are the best in the world by visiting the BlizzCon site on August 21 and 22.


To clarify, the tournament coverage streams are free, but to watch panels, see new announcements as they are made, or receive the in-game pet, you will need to order the Pay Per View Internet stream.
Exhibition Map
Edit
A 2 vs 2 game of StarCraft II was played and recorded during BlizzCon.[8]
Grab Bag Loot
Edit
The grab bag will include "noobz", Blizzard-inspired vinyl toys. One is of Jim Raynor.[9]
Fansite Ticket Giveaways
Edit
Several fansites gave away tickets to BlizzCon 2009. Sites included
References
Edit
Community content is available under
CC-BY-SA
unless otherwise noted.