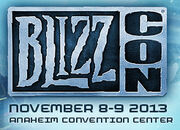 BlizzCon 2013 will be held on November 8–9, 2013.[1] StarCraft II players who order a virtual ticket or attend the event in person will be rewarded with a Stitches portrait and decal.[2] StarCraft swag includes a baneling/zergling plushie, a Carbot Animations-style zergling T-shirt,[3] and a Kerrigan Cute But Deadly figure.[4]
Heroes of the Storm
Edit
Heroes of the Storm Overview—A look at Heroes of the Storm, including core game mechanics, hero rosters, reward systems, and the challenges players will face on its battlefield.[5]
Heroes of the Storm Deep Dive—The game's design and art team gives insight into hero creation and the construction of a map and environments.
Heroes of the Storm Live Matches—Showcase matches for the game.[6]
StarCraft
Edit
References
Edit
External Links
Edit
Community content is available under
CC-BY-SA
unless otherwise noted.