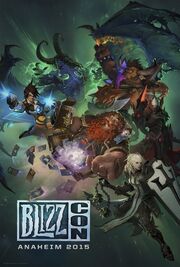 BlizzCon 2015 was the ninth installment of Blizzard Entertainment's annual BlizzCon event. The 2015 BlizzCon took place across November 6-7, 2015, at the Anaheim Convention Center. A pre-BlizzCon charity dinner was also held on November 5 in support of the Children's Hospital of Orange County.
BlizzCon 2015 tickets went on sale in two batches on Wednesday, April 15 at 7 p.m. PT and Saturday, April 18 at 10 a.m. PT through the online event ticketing service Eventbrite, priced at $199 each (plus applicable taxes and fees).[1] Virtual tickets went on sale in August, 2015.[2]
The event had over 25,000 attendees and over 10 million users streaming the event.[3]
StarCraft Elements
Edit
A StarCraft II world tournament featured.[4] The event's "goody bag" included an inflatable psi-blade.[5] Interviews included the StarCraft setting.[2] Those who attended or purchased a virtual ticket received two StarCraft II-themed portraits.[6]
12:30-1:30PM: The Future of StarCraft II
4:45-5:45PM: StarCraft II: Units - From Blueprints to Battlefield[7]
10-11AM: StarCraft II: Sounds from the Void
11AM-12:15PM: Legacy of the Void Launch Celebration
12:30-6:30PM: StarCraft II WCS Global Finals
4-6:30PM: StarCraft II Simulcast[7]
References
Edit
External Links
Edit