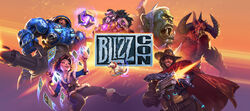 BlizzCon 2018 will be held on November 2-3, 2018. The first batch of tickets went on sale on May 9, the second on May 12, and the benefit dinner ticket sale on May 16.[1]
StarCraft Elements
Exclusives
The event's "goodie bag" includes a StarCraft 20th anniversary pin.[2] Individuals who watch the Heroes of the Storm or StarCraft II championships over the October 25–28 period will receive the following awards, based on the number of hours watched:
During live broadcasts of the WCS Global Finals at BlizzCon Opening Week and BlizzCon, 2000 new race banners—exclusive for a limited time—will be awarded randomly to viewers each hour. For a chance at a banner, tune in for at least one hour during eligible broadcast times.[3]
Timeline
Pre-event
November 3
November 4
References