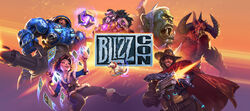 BlizzCon 2018 will be held on November 2-3, 2018. The first batch of tickets went on sale on May 9, the second on May 12, and the benefit dinner ticket sale on May 16.[1] The event's "goodie bag" includes a StarCraft 20th anniversary pin.[2]
StarCraft Elements
Pre-event
November 3
November 4
The Pylon Show: Join iNcontroL and Artosis for an energetic live discussion of StarCraft II and StarCraft: Remastered. The Koprulu sector's the limit! (5:30AM–6:30AM)
StarCraft II: What's Next: Join the development team as they set the stage for the future of StarCraft II. You'll also get a first look at the latest updates (6:30AM–7:15AM)
StarCraft II WCS Semifinals (8AM–11AM)
StarCraft II WCS Grand Final (11:30AM–2:00PM)[3]
References
Community content is available under
CC-BY-SA
unless otherwise noted.