The title of this article is conjectural. The subject has no canonical name.
A broken-horned zergling was often seen in the company of Sarah Kerrigan during the second phase of the Second Great War.
Biography
Edit
The zergling was a member of the Naktul Brood, either spawned during the arrival of the former Queen of Blades on Phaeton, or a pre-existing organism. Regardless, it took part in the mission to eradicate the Terran Dominion presence on the world. After the battle, the zergling proceeded to enter the special ops dropship its queen was using. Kerrigan reacted with hostility at first, drawing a C-10 rifle on it, but lowered her weapon. It remained with her after she chose to continue her course of vengeance.[1]
Hound of the Swarm
Edit
The following section contains timeline information which isn't necessarily in chronological order.
The zergling was present on Char when Kerrigan sent her forces against General Horace Warfield. The zerg overran Warfield's compound and Warfield was impaled on a support beam, disabling him. The zergling advanced on the terran, but stood aside to let its queen deliver the coup de grace.[2]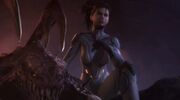 The zergling was present with Kerrigan when the Dark Templar Zeratul appeared inside her leviathan. It stood aside as its queen and the protoss battled.[3]
Game Effect
Edit
The zergling can be seen in the story mode space of Heart of the Swarm, pacing around the main characters between missions. The zergling will change accordingly depending on which evolutionary path is chosen in the game.
References
Edit
Community content is available under
CC-BY-SA
unless otherwise noted.