You may be looking for:
"Yeah, well we're all heroes on Brontes IV."
Brontes IV is a planet located in the Brontes System.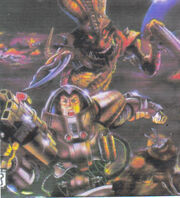 The planet was settled by terrans after the arrival of humans in the Koprulu Sector and became a Confederate Fringe World. It was a minor world, missing from most Confederate navigation charts.[1]
The zerg invasion of the sector brought the anti-Confederate rebel group, the Fist of Redemption, to the planet.[2] The civilian government, the Council of Inquiry, created the Hammer Strike Force,[3] to combat the insurgency. Assistance from the Confederacy amounted to a number of ghosts. Heavy handed tactics by government forces incited another group, the New Dresdin Outlaws, to revolt.[4]
The arrival of the zerg, including the Incubus and Bahumut Broods, was followed shortly by that of the 7th Fleet from Tassadar's expeditionary force. The protoss decided not to scour the planet clean of life and a conventional struggle against the zerg and terrans ensued.[5] Matters were complicated by protoss infighting[6] and the takeover of the Incubus and Bahumut Broods by renegade ghost Atticus Carpenter, effectively merging those zerg forces with the Fist of Redemption.[7]
Additional zerg forces, including the Fenris Brood, joined the battle. A belated alliance between the terran and protoss failed to stem the tide and Brontes IV was ultimately overrun by the zerg.[8]
Locations
Edit
Installations
Edit
Landforms
Edit
Orbital Facilities
Edit
Settlements
Edit
References
Edit