GTA: The Criminal Enterprises - The Loop
Play Sound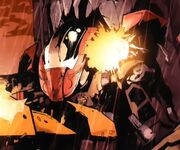 Cerberus goliaths are upgraded versions of the standard goliath, utilized by the Cerberus Program.
Overview
[
]
In many ways, Cerberus goliaths function identically to the standard goliath, possessing twin autocannons and Hellfire Missiles. However, the amount of damage they could give and endure was far superior to its base design.[1] The new Cerberus Program goliaths are equipped with three guns (two on the arms and one beneath the cockpit).[2]
History
[
]
Cerberus goliaths were deployed on the Fringe World of Chau Sara, acting as support to Cerberus firebats as part of an effort to wipe out a hostile xenomorph infestation. This had to wait however, as the goliaths took part in an attack on a Sons of Korhal base.[1] Later, they took part in the push to reclaim the Flannum Installation.[3]
The new Cerberus Program continues to use goliaths.[2]
Game Unit
[
]
Cerberus Goliaths only appear in the StarCraft: Loomings prequel campaign as heroic units. Otherwise, they function identically to a regular goliath.
Upgrades
[
]
Acquisition
| | |
| --- | --- |
| Purchased from | Armory |
| Hotkey | P |
Level 1
Level 2
Level 3
+1 bonus to goliath ground attack per level
+4 to goliath air attack per level (+2 per missile)
+2 to vulture attack per level
+3 to siege tank tank mode attack per level
+5 for siege tank siege mode attack per level
Acquisition
| | |
| --- | --- |
| Purchased from | Armory |
| Hotkey | W |
Level 1Level 1
Level 2
Level 3
Quotations
[
]
Quotes
Trained
Selected
Confirming order

Comm-link online.
beebeep) Channel open.
(
Systems functional.

Acknowledged H.Q.
high beep) Nav-comm locked.
(
Confirmed.
Target designated.

Repeatedly selected

E.D.2.0.9. on.
MilSpec
low triple beep) Checklist protocol, initiated.
(
Running level one diagnostic.
strange beep) U.S.D.A. selected.
(
strange beep) F.D.I.C. approved.
(
beebeebeep) Checklist completed... S.O.B.
(

Other lines
References
[
]