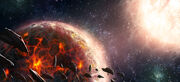 The Char system[1] is a binary star system located in the Koprulu sector. It is a binary system, specifically a class VI F0 sub dwarf orbiting an M8 irregular variable. Featuring the planet Char[2] and a ringed planet the size of Tarsonis,[3] it is located within the Zerg Quarantine Zone.[4]
References
Edit
↑ Blizzard Entertainment. StarCraft II: Wings of Liberty. (Activision Blizzard). PC. Special Report: UNN newscast after "Liberation Day." (in English). 2010.
↑ Blizzard Entertainment. 2010-07-24. Koprulu Sector Systems: Char. Blizzard Entertainment. Accessed 2010-07-24.
↑ Rosenberg, Aaron (May 23, 2006). StarCraft: Queen of Blades. Simon & Schuster (Pocket Star). ISBN 978-0-7434-7133-6.
↑ Elder, Josh and Ramanda Kamarga. "Why We Fight." In StarCraft: Frontline: Volume 1, pp. 6–47. Tokyopop, August 1, 2008. ISBN 1427-80721-3.
Community content is available under
CC-BY-SA
unless otherwise noted.