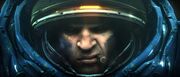 A cigar is a tightly-rolled bundle of tobacco usually smoked in recreation by terrans. It is not uncommon for cigars to go hand in hand with marines or firebats, the soldiers smoking them even within sealed CMC armor. However, their use also extends to high-ranking officers.[1] Many Umojan cigars were considered cheap and low quality.[2]
During the era of Emperor Valerian Mengsk, soldiers of the Dominion Marine Corps were strictly prohibited from smoking cigars while in personal armor.[3]
Known Brands
Edit
Known users
Edit
"Tychus' cigar is practically canon! "Cigar" is even an entry in the StarCraft Wikia."
Tychus Findlay is seen smoking a corona-sized cigar in Wings of Liberty. The same cigar style is smoked by Jim Raynor and Matt Horner in "Hearts and Minds" cinematic. Raynor is also seen smoking smaller sized cigar, a cigarillo or cheroot, after "Zero Hour" and in various artwork.
References
Edit