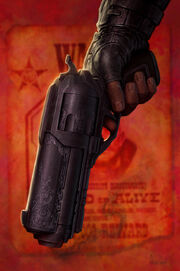 The Colt Single Action Army revolver is an antique terran revolver. They are incredibly valuable, with some models being hundreds of years old. Due to its older design, creating bullets for the revolver was expensive.
As an outlaw after the Guild Wars, Jim Raynor stole one from the summer of a minor member of the Old Families and later used it on Javier Vanderspool to avenge his the death of his friends. He then left it on Vanderspool's iron lung while deciding to let go of his past.[1]
Community content is available under
CC-BY-SA
unless otherwise noted.