Cybros is the home space platform of the Purifiers.
A command vessel, Cybros dates back to well before the Great War. Per the orders of the Conclave, the purifiers were deactivated and placed on Cybros before being launched into space, only to be reactivated in the direst of circumstances.[1] Endion was chosen as the moon where Cybros would be kept in stasis, and secured by a megalith. Khalai Caste scientists would continue improving the stasis grid, and the station would serve as a both a symbol of scientific achievement and a reminder of the dangers of it.[2]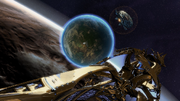 During the war between the forces of Amon and the Daelaam, Hierarch Artanis led his forces to the station in order to reactivate the Purifiers. However, Amon's zerg had already arrived at Endion, prompting a battle between the two parties.[3]
Ultimately, the protoss were able successfully fend off the zerg and awaken the machines by destroying the null circuits. Afterwards, the purifiers scoured Endion by purifying it from space, before agreeing to join the protoss in the conflict under the condition that they would be treated as equals, not slaves, with Talandar as their representative.[4]
After its reactivation, Cybros became a center of research, design and production for the Purifiers, creating new and improved weapons and armaments to aid them and their protoss allies.[5]
The platform joined the unified protoss forces in the second invasion of Aiur. There it joined its firepower with that of the Death Fleet and Spear of Adun to destroy Amon's host body.[6]
Currently, one of the station's wings lies abandoned.[7]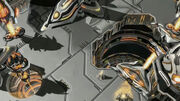 Cybros forms the basis of its tileset in Legacy of the Void.
References
Edit
Community content is available under
CC-BY-SA
unless otherwise noted.