This is a disambiguation page: a list of articles associated with the same title. If an internal link referred you to this page, you may wish to change the link to point directly to the intended article.
Dark Templar may refer to:
The Nerazim, also known as the Dark Templar faction.
"You could no more evade my wrath than you could your own shadow."
- Protoss dark templar(src)
Dark templar are protoss stealth harassment warriors. They were present as special units in the original StarCraft and could be built in the expansion.
StarCraft
Edit
Dark templar could not be created in the original StarCraft. They were given to players as special units at the start of two protoss campaign missions. They had slightly different stats from the Brood War version, and could not create dark archons.
Brood War
Edit

In Brood War, dark templar were buildable units (statistics apply to Brood War units). They were frequently used in rushes, in which the attacking player tried to destroy their opponent before they could develop adequate detection.
StarCraft: Ghost
Edit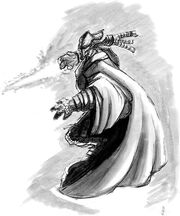 There is evidence to suggest that the Dark Templar were set to appear in StarCraft: Ghost. Although most artwork likely relates to the characters such as Zangakkar, there is enough variation (such as in gender) to suggest a variety of dark templar.
StarCraft II
Edit
In StarCraft II, dark templar appear in two models randomly chosen when the unit is created (representing the Lenassa and Zer'atai clans). In Co-op Missions, Zeratul can field a variant named the void templar.
Community content is available under
CC-BY-SA
unless otherwise noted.