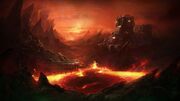 The Dauntless Plateau is located on Char. The only surface route to it is through the Bone Trench,[1][2] located to its north.[3]
During the Second Great War, the Terran Dominion established a base on the plateau[4] following the terran attack on Char which deinfested Sarah Kerrigan.[5] From there, General Horace Warfield oversaw the purge of the remaining zerg following the fragmentation of the Swarm.[6] The Zagara Brood suffered heavy losses in failed assaults toward the plateau; terran Gorgon-class battlecruisers decisively stopped the assaults in the Bone Trench.[7]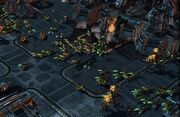 The reforming Swarm, led by Kerrigan, succeeded in forcing the Bone Trench[7] and assaulting the plateau directly. The zerg overran the base[4]; General Warfield was killed[8] and the terrans fled.[4] Char was reclaimed for the Swarm.[9]
The plateau appears as a contestable territory in RISK: StarCraft.[3]
References
Edit
Community content is available under
CC-BY-SA
unless otherwise noted.