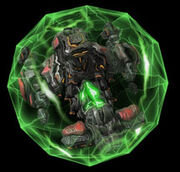 The defensive matrix is a form of terran energy shield technology.
By 2499, Confederate scientists had developed a short-lived defensive matrix that could be created by science vessels.[1] The technology gained a favorable reputation during the Brood War, where matrix technology was credited for saving many lives.[2]
By 2504, LarsCorp Technologies had developed a defensive matrix system for Minotaur-class battlecruisers.[2] Defensive matrix technology was also outfitted on the Gorgon-class battlecruiser, the Bucephalus.[3]

This article or section contains information derived from Co-op Missions, and should not be considered part of the official StarCraft storyline.
Harvesters are equipped with defensive matrix technology. However, they are only capabel of using the technology on themselves, and these shields only last a few seconds.[4]
Game Effect
Edit
StarCraft
Edit
In StarCraft, the science vessel can project a defensive matrix onto other units.
StarCraft II
Edit
Wings of Liberty
Edit
In StarCraft II, defensive matrix is a Wings of Liberty campaign upgrade for the battlecruiser.[2]
Co-op Missions
Edit
In "Mist Opportunities," harvesters can temporarily protect themselves with a defensive matrix.
Swann upgrades
Development
Edit
The following section contains information from a previous version of StarCraft II which is no longer valid.
The nomad used to be able to create a defensive matrix (at BlizzCon 2007). The nomad could create a damage suppression field which reduces all incoming damage by 50% at the target area.[5]
One model of the battlecruiser could protect itself with a defensive matrix in earlier builds.
References
Edit
Community content is available under
CC-BY-SA
unless otherwise noted.