The Devouring One is a specialized zergling strain, more powerful and resilient than its standard counterpart.
History
Ulrezaj's Dark Vengeance
The dark archon Ulrezaj intended to use Devouring Ones in his attack on Shakuras. Using a technique to combine Dark Templar and zerg energy to create warped khaydarin crystals, he would control and summon zerglings and hydralisks from his base on Char and transform them into genetically enhanced zerg such as Devouring Ones with the false crystals. The technique rendered the Devouring Ones immune to the effects of the xel'naga temple.[1] The plot was foiled by heroes dispatched by Zeratul.[2][3]
Reign of Fire
Sarah Kerrigan gained control of a small number of previously uncontrolled Devouring Ones on Braxis via one of Mengsk's psi emitters, using them against the United Earth Directorate forces guarding the psi disrupter.[4]
Game Unit
StarCraft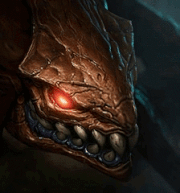 Devouring Ones appear in StarCraft: Brood War, as campaign-exclusive units.
Abilities
Upgrades
StarCraft II

A Devouring One decal is available in StarCraft II upon reaching level 19 with zerg. The decal is the outline of a zergling head.[5]
References
Community content is available under
CC-BY-SA
unless otherwise noted.