"Since its inaugural appearance as the "Desert Strike HotS" mod, Direct Strike has remained as one of the most popular maps in the StarCraft II Arcade. Community developer Tya's mod tests your strategic unit choices, careful positioning, and economy management in a competitive tug-of-war battle."

Direct Strike is a fan made tug-of-war map for StarCraft II by Tya. It was introduced with Patch 4.3 as part of the launch of the Premium Arcade, and can be bought for $4.99. All the free features of its predecessor (Desert Strike) are still available.[1]
Overview
[
]
Direct Strike is an improvement over the classic Desert Strike map. Each player builds units that are sent out in waves against the enemy, with the ability to change what units are spawned. The premium version of the map includes four new games modes, including Sabotage, which conceals players' staging areas and allows for unit bans, and Switch mode, where players can change their race mid-game. Cosmetics will also be available.
Free to play players can play with premium players provided the premium player hosts the lobby.[1]
Videos
[
]
Notes
[
]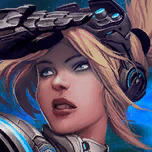 A StarCraft II portrait is available for players who purchase the Direct Strike map.
Community
[
]
Direct Strike players statistics and rating is available at https://ds-rating.com/players
References
[
]