A distant, shadowed world was the scene of the final battle in an apocalyptic future foreseen by the Overmind. The remaining protoss made their last stand on that world against Amon, his hybrids, and enslaved zerg Swarm. The protoss constructed an archive, hoping to aid future civilizations against Amon. The protoss fought bravely but were ultimately exterminated.[1]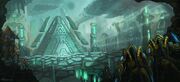 One image of the world's location appears identical to the Sigma Quadrant.[2]
In Wings of Liberty, mission description data points to the unnamed world as being Ulnar, and is likewise named as such in the game's strategy guide. Legacy of the Void depicts Ulnar as being an artificial construct. Concept art for Legacy of the Void depicts Ulnar as having a planetary surface.[3]
Community content is available under
CC-BY-SA
unless otherwise noted.