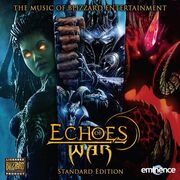 Blizzard Entertainment: Echoes of War is a two-disc album and DVD package featuring a stirring collection of orchestral themes from across the Blizzard Entertainment universes. It features two audio discs, DVD including feature-length documentary, 32-page color booklet, nine exclusive art cards, fifteen audio tracks and over ninety minutes of orchestral music including exclusive music from World of Warcraft: Wrath of the Lich King, StarCraft: Ghost, StarCraft II and Diablo III.[1] It contains a total of 90 minutes of music.[2] It was developed by EMINENCE in partnership with Blizzard Entertainment.[3]
The Legendary edition became available for sale November 1, 2008,[4] while the standard edition became available for sale November 22, 2008.[5]
Individual tracks, along with the entire album, are available for sale at the iTunes store. The physical album can be bought from Echoes of War or EMINENCE.[2]
The album comes in a standard and Legendary edition.[3] The Legendary edition contains a bonus disc with extra material.[6] A bonus DVD contains behind-the-scenes information about Blizzard music.[7]
The music was composed by Matt Uelmen, Tracy W. Bush, Derek Duke, Glenn Stafford, Kow Otani / 大谷幸 and Aika Tsuneoka and arranged by Natsumi Kameoka / 亀岡夏海, Go Shiina, William Motzing, and Hironori Osone.[5]
The Third War Symphony
Edit
1. Journey to Kalimdor
2. Eternity's End
The Shadow of the Legion Symphony
Edit
3. A Tenuous Pact
4. Anar'alah Belore
5. The Betrayer of the Sun King
The Visions of the Lich King
Edit
6. The Visions of the Lich King Overture
The Koprulu Symphony
Edit
The Hyperion Overture
Edit
The Symphony of Sanctuary
Edit
6. The Eternal Conflict
7. Legacy of Terror
8. Children of the Worldstone
Last Angel
Edit
Re-Release
Edit
EMINENCE announced they would re-release the product on June 16, 2009.[9]
References
Edit
Community content is available under
CC-BY-SA
unless otherwise noted.