This article or section contains information derived from Co-op Missions, and should not be considered part of the official StarCraft storyline.
Emperor's Shadows are an elite Terran Dominion unit of ghosts that fight in the Royal Guard. They deploy powerful EMPs, advanced cloaking, and pyrokinesis abilities, as well as the ability to call down tactical missiles.[1]
Game Unit
[
]
The Emperor's Shadow are ghosts usable by Arcturus Mengsk in Co-op Missions. They are elite spellcasters, which can use Pyrokinetic Immolation to deal heavy damage to enemies, and later to groups of enemies. They gain a temporary cloak at Rank 1 which prevents them from being attacked for 10 seconds. Their EMP Blast ability can stun and drain the energy and shields of targets in an area, and at Rank 3 can be upgraded to deal damage to those they effect.
Emperor's Shadows can also calldown tactical missiles, which do high damage in a small area. These can be upgraded to have no cast time.[1]
Upgrades and Abilities
[
]
Trivia
[
]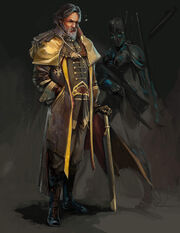 The design of the Emperor's Shadow appears to be based off of the early concept art for Arcturus Mengsk, with a similar looking ghost standing in his shadow.
References
[
]