Roblox: DeepWoken - The Loop
Play Sound
"For thousands of years, it has been a research retreat. Here,
protoss
scholars secluded themselves from political affairs...to focus on the task of devising technology that would benefit the
empire
."
Endion is a forest moon orbiting Bellum IV.
History
[
]
Research Retreat
[
]
Endion was a research retreat for millennia. The greatest protoss scientists secluded themselves from political affairs to focus on devising technology that would benefit the Protoss Empire. The psionic matrix was first conceived there.
After the Purifier Rebellion, Endion was chosen as the world Cybros was to orbit. The scientists constantly improved its stasis grid,[3][4] which was sealed by complicated locking mechanisms that could only be destabilized by the Megalith.[1]
End War
[
]
During the End War, Amon's zerg brood descended on Endion and overran its population and the contingent of Templar assigned to defend it, infesting the forests. Using colossi developed on Endion, the protoss secured the area around the Megalith and warped in a nexus point. Phase-smith Karax activated the Megalith, which the protoss escorted to the stasis locks. Once the grid was down, Hierarch Artanis had all forces recalled from Endion's surface.[1]
After a battle to purge the zerg and hybrid from Cybros, Executor Clolarion fired a purification beam from his station, purifying all life on Endion. All zerg presence on the surface was annihilated.[2]
Trivia
[
]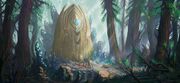 Endion appears analogous to Endor from Star Wars: Episode VI - Return of the Jedi, from the similarity of its name to its description as a "verdant moon," with Cybros representing the second Death Star.
References
[
]