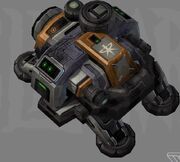 The engineering bay is a terran building used to improve the quality of weapons and armor fielded by infantry.[1]
Overview
Within the Dominion Armed Forces, whenever a strike force is deployed planetside, the engineering bay is one of two key research facilities to be established in a field base as soon as possible (the other being the armory), improving the quality of infantry weapons.[2] During the Great War, these structures were equipped with the ability to lift off and move to a new location. However, after the Brood War, the engineering capabilities were improved, increasing the personnel of the structure and intricacy of their work. Because of this, engineering bays were no longer cleared for flight.
The Dominion Special Forces utilize AIs in their experimental engineering bays, which increase their research speed by fighting each other in simulated battles.[3]
Game Structure
StarCraft
The engineering bay upgrades the quality of weapons and armor used by terran infantry. It can lift off.
Researched Upgrades
Building Abilities
Development

The weapons plant was a terran structure in the StarCraft beta. It was cancelled before the game's full release.[4] It was later turned into the engineering bay.[5]
StarCraft II
Versus
The engineering bay reappears in StarCraft II. It can no longer lift off.
Wings of Liberty
In the Wings of Liberty single player campaign, the Hi-Sec Auto Tracking and Building Armor upgrades are not available, while the Neosteel Frame upgrade to bunkers is an upgrade purchased in the Hyperion's armory.
Attack upgrades improve attack cooldown of affected units by 5% per level.[6]

These self-replicating ultra capacitors reduce the reload time of weapons and systems. Now each of the weapon upgrades at the armory and engineering bay increases attack speed by 5% in addition to increasing damage.

Armor upgrades increase health of affected units by 5% per level.[6]

We have created a new lightweight alloy called vanadium. Vanadium diffuses weapon impacts much more efficiently than traditional armor plating, and it better preserves the life of our units. Now each of the armor upgrades in the armory and engineering bay increases unit life by 5% in addition to increasing armor.
Co-op Missions
Jim Raynor, Rory Swann, Nova Terra, Mira Han and Matt Horner, and Tychus Findlay have a number of unique upgrades available to them at the engineering bay. Han and Horner's engineering bay does not give them infantry upgrades, but unique upgrades for Mira's units.
Raynor Upgrades
Swann Upgrades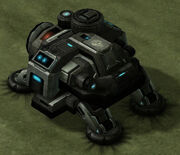 Nova Upgrades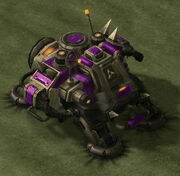 Han and Horner Upgrades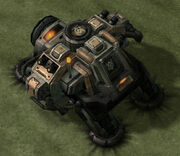 Tychus Upgrades
Development
As of patch 4.7.1, Neosteel Frame and Structure Armor were merged into an upgrade called Neosteel Armor.
The StarCraft II engineering bay was designed to be a more simple structure than its predecessor. It was decided to make it a grounded structure as per the belief that only unit-producing structures should be able to lift off.[8]
References
Community content is available under
CC-BY-SA
unless otherwise noted.