The following section contains information from a previous version of StarCraft II which is no longer valid.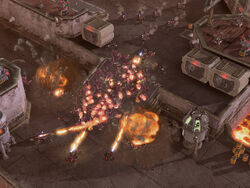 Finding Jim Raynor was a contest from Blizzard Entertainment in which community members were invited to find very small Jim Raynor models in screenshots, often hidden by brush or otherwise obscured by obstacles.[1][2]
Other character models, such as Zeratul and Rory Swann, can also be found.
Raynor's in-game unit model looks different from his appearance in the Easter eggs.[1]
References
[
]