The forge is a site of protoss technological development.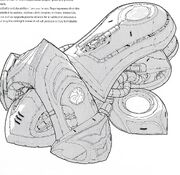 Although their technology is incredibly advanced when compared to that of other species, the protoss constantly strive to enhance and refine their weapons and armor. Work at the forge rarely ceases, as this edifice is where much of the research takes place[1] by phase-smiths.[2]
Forges come equipped with an array of power crystals lining the interior to power operations on the inside. The forge also has no entrance, and protoss engineers are warped directly into the structure.[3]
Tal'darim forges serve as a prison where Khalai Caste engineers are interrogated for their technological secrets. The Ihan-rii utilize their forges to store vacuum-sealed void crystals[2]
The forge upgrades the armor and weapons of protoss units along with the plasma shields on all protoss units and buildings. The forge allows access to the photon cannon.
The forge reappears in StarCraft II.
All protoss commanders gain ground upgrades at the forge. Karax unlocks upgrades for his static defenses at the forge when he reaches Level 6. Alarak unlocks upgrades for his hero unit at the forge when he reaches Level 14, and it increases attack damage and armor of both his ground and air units. Fenix unlocks upgrades for his hero unit at the force when he reaches Level 6.
Community content is available under
CC-BY-SA
unless otherwise noted.