This article or section contains information about StarCraft: Ghost, which has been declared non-canon. Elements may be taken as 'flavor lore' however.
The content may be significantly out of date. Please do not add speculation to this article, and remember to cite a published source for details.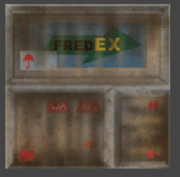 "When it absolutley, positively has to be there sometime in the near future"
FredEx is a terran postal company, with dropoff boxes located through the Terran Dominion.[1]
Notes
FredEx is likely a reference to the postal carrier service FedEx.
References