Roblox: DeepWoken - The Loop
Play Sound
The fusion core, formerly known as the anti-matter core[1] and deep space relay,[1][2] is a terran structure in StarCraft II.
Overview
[
]
The fusion core allows the production of battlecruisers and is associated with battlecruiser-specific technologies. Research within the fusion core is extremely delicate, harnessing antimatter and nuclear power to increase battlecruiser capabilities.
To accommodate the new Moirai-class battlecruiser, the Dominion Special Forces utilized a variant of fusion core with quadruple the power output without an increase in its heat signature.
Fusion cores are used in civilian applications as well, as on Tyrador IX, the same fusion cores that power the Knights of Tyrador battlecruiser fleet provide most of the energy the planet's casinos, water parks, and robotic massage parlors use.[3]
Game Structure
[
]
Versus
[
]
Researched Upgrades and Abilities
[
]
Building Upgrades
[
]
Wings of Liberty
[
]
In the Wings of Liberty campaign, the fusion core allows the production of the Hercules dropship at a starport.
Building Upgrades
[
]
Co-op Missions
[
]
Jim Raynor, Mira Han and Matt Horner and Arcturus Mengsk can construct fusion cores in Co-op Missions. The structure provides upgrades.
Raynor Upgrades
[
]
Han and Horner Upgrades
[
]
Mengsk Upgrades
[
]
Development
[
]
The following section contains information from a previous version of StarCraft II which is no longer valid.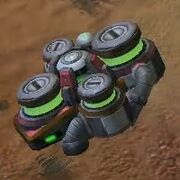 The fusion core experienced a rather rushed and unplanned development. It was the intention of the designers that advanced terran structures feature circular shapes, but the fusion core's shape became simple and repetitive. The front and back pistons were tweaked to oval shapes to make them more interesting.[5]
Players used to have a choice between three abilities on each battlecruiser. This was removed from multiplayer by the beta, but is featured in the campaign.[6]
Images
[
]
References
[
]