The hive is the primary structure of the zerg[1] and unlocks the final stages of their evolution.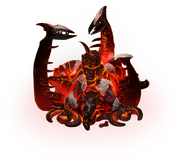 Protected by a dense exoskeleton and granted full access to the Overmind's pool of knowledge, the hive continues to provide the same functionality that it has since it was a hatchery (birthing larvae, maintaining creep, and digesting minerals/gas). Once the hive is present, the being commanding it has the potential to unleash the full fury of the zerg.[2] The genetic model for a hive is extremely complex, and would be indecipherable by any terran scientist.[3] When under attack, hives can harden their hull with bony protrusions, allowing it to shrug off weaker strikes.[4]
During the Great War and Brood War, the Zerg Swarm could deploy a "Char hive." This hive glowed by the perpetual heat it generated, and while it was not so hot that melee attackers would be damaged, the drones and larvae within it were able to take advantage of the warmth it provided on the colder planets of the Koprulu sector.[5]
Game Structure
Edit
StarCraft
Edit
Researched Abilities
Edit
Researched Upgrades
Edit
Development
Edit
In some builds of the StarCraft beta, the hive was a name given to the structure that would become the queen's nest.[6]
StarCraft II
Edit
The hive reappears in StarCraft II. The hive can set two rally points, one ("Y") for most units and one ("G") for drones. The queen does not get a rally point.
Each individual egg can be separately rallied; this overrides rally points set for the hive.[7]
Researched Abilities
Edit
Researched Upgrades
Edit
Queen Abilities
Edit
Co-op Missions
Edit
Sarah Kerrigan, Zagara and Abathur use hive with tier 3 primary structure wich can create larvas and generate creep. Kerrigan and Zagara can create queens after morph spawning pool. Abathur can initially create swarm queens instead of standart queens and can be upgraded to create two swarm queens simultaneously.
Dehaka use primal hive with primary structure wich can breed primal drones, create extractor on vespene gas geyser, evolve attack and carapace on primal zerg units and can uprooted wich can move and attack.
Egon Stetmann use mecha hive with tier 3 primary structure which can build mecha larvas and generate Egonergy field.
Kerrigan Upgrades
Edit
Zagara Upgrades
Edit
Abathur Upgrades
Edit
Development
Edit
The hive for StarCraft II was based off the lair in StarCraft, in order to make it look more 'evil'. There were also plans to change the middle maw portion more gradually as it evolved from a hatchery, but there wasn't enough time to do so.[10]
References
Edit
Community content is available under
CC-BY-SA
unless otherwise noted.