The Castanar hybrid was a powerful hybrid reaver imprisoned at a secret Dominion facility at Castanar.
History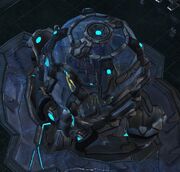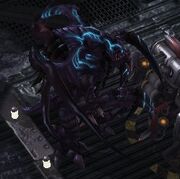 It was accidentally released by Raynor's Raiders when they destroyed the facility's power core, and went on a rampage throughout the facility, killing terrans (of both factions), zerg and protoss alike. The Raiders escaped in a Hercules dropship, prompting it to "scream" as they did so.[1]
Its scream was so powerful that it was felt by telepaths aboard Hyperion.[2]
Game Unit
Abilities
Template:AbilityBox Template:AbilityBox
Gallery
Notes
The Castanar hybrid was invincible in the game mission itself, prompting the player to focus on escaping.[1]
Visible on the computer screens are the following information of the hybrid:
Synthetic DNA restoration 36% completed
Genetic mutations found in chromosome 12, 18
Probability of time-shift mutation ~ 13%
The rest of the installation equipment details are rather vague/fuzzy to make out:
Warning!
Subject showing increasing signs of aggression:

______ - 13.3
Blood acidity - 4.7

Stasis Parameters
Local Mutations Found
Code 109B592
Code 926
References
Community content is available under
CC-BY-SA
unless otherwise noted.