This following section contains information from concept art that may not be canonical.

This article or section contains information about StarCraft: Ghost, which has been declared non-canon. Elements may be taken as 'flavor lore' however.
The content may be significantly out of date. Please do not add speculation to this article, and remember to cite a published source for details.
You may be looking for: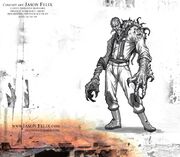 An infested SCV pilot is a type of infested terran, only seen in StarCraft: Ghost concept artwork.
References
Edit
StarCraft: Ghost. StarCraft II Hungary. Accessed 2009-06-07.
Community content is available under
CC-BY-SA
unless otherwise noted.