Raise a Floppa - The Loop
Play Sound
The infested bunker is a zerg structure.
Game Structure
[
]
The infested bunker works similarly to a terran bunker. Most can only load terran infantry. If viewed in a custom map, the tooltip says "must be destroyed if infested." They appear in the campaigns of Wings of Liberty, Heart of the Swarm, and Nova Covert Ops.
The infested bunker is also found in Left 2 Die. In that mission, at least one infested marine can fit inside one, and it emerges when the infested bunker is destroyed.[1]
Co-op Missions
[
]
This article or section contains information derived from Co-op Missions, and should not be considered part of the official StarCraft storyline.
Infested bunkers can be built by Alexei Stukov in Co-op Missions. They can walk around, attack, and generate infested troopers inside themselves. They can be unloaded.[2]
Infested troopers can attack from inside the infested bunker, and can enter or leave by player command, whether the bunker is rooted or not. If the infested bunker is uprooted, it has a "claw" attack.
When an infested bunker is produced, it includes 4 infested troopers within it. Every 30 seconds the bunker produces a single infested trooper. If it isn't full, the infested trooper is produced within the bunker and remains inside unless ordered out. If there aren't enough slots to hold all the infested troopers, new ones emerge outside and follow the psi emitter. They have a timed life of only 30 seconds once they leave the bunker, however.
Abilities
[
]
Upgrades
[
]
Development
[
]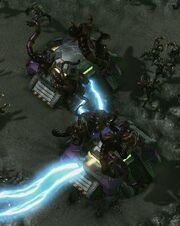 The infested bunker was going to be a producible campaign unit for Heart of the Swarm, it would have spawned by emerging from underneath a terran bunker, warping the metal into itself, gaining a back-mounted cannon in the process.[3] The unit was put into storage before being revived for Co-op Missions.[4]
References
[
]