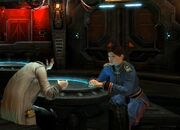 Jessica[1] Hall is a member of Raynor's Raiders.[2]
Quotations
Quotes can be found in the map editor by looking at Data > Sound - Under the "Interactive" folder. They're labeled BridgeFidgetsHallHall00001(up to 00015) and CantinaFidgetsHallHall00001(up to 00014).
Trivia
Hall is one of four portrait options immediately available to players when they first create a player profile in StarCraft II.
She is voiced by Nika Futterman, who also voiced the Queen in StarCraft II.
References
↑ 1.0 1.1 Blizzard Entertainment. StarCraft II: Wings of Liberty. (Activision Blizzard). PC. Credits. (in English). 2010.
↑ Blizzard Entertainment. StarCraft II beta, player profiles. (Activision Blizzard) (in English). July 7, 2010