"Sir, I'd like to say, it's a pleasure serving on the Hyperion."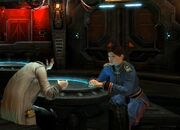 Jessica[1] Hall is a member of Raynor's Raiders.[2]
She is sometimes seen on the bridge and the the cantina.[3]
She was interested into a relation with Matt Horner.[4]
Hall is responsible for the mission archives, reminding Jim Raynor that he could review the missions he had been on.[4]
Trivia
Hall is one of four portrait options immediately available to players when they first create a player profile in StarCraft II.
She is voiced by Nika Futterman, who also voiced the Queen in StarCraft II.
References