"A jukebox is an old method of playing music. Music used to be pressed into vinyl disks called records. There might be up to a thousand songs in here - songs that no one's heard in maybe a couple hundred years."
- Jim Raynor explaining to Tychus Findlay what a jukebox is.(src)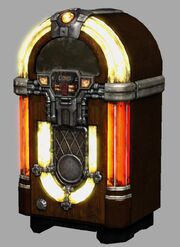 A jukebox is a partially automated music-playing device, usually a coin-operated machine, that can play specially selected songs from self-contained media. The traditional jukebox is rather large with a rounded top and has colored lighting on the front of the machine on its vertical sides.
Despite being an antiquated form of playing music, jukeboxes can still be found in use in the 26th century.[1]
Joeyray's Jukebox
Edit
Joeyray's jukebox, located in Joeyray's Bar, Mar Sara, was considered one of the finest examples extant of a most rebellious of devices. It was rumored to be loaded with the hottest, most subversive platters in the Koprulu Sector.[2]
Jim Raynor and Tychus Findlay reunited at Joeyray's Bar. They stole the jukebox and moved it to the cantina aboard the Hyperion when Raynor's Raiders departed the planet.[3]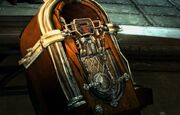 The jukebox was damaged during a bar fight in Hyperion's cantina when a drunk Findlay threw the jukebox at Raynor. It was repaired on Raynor's orders,[4] though even after repairs it could not play half of the songs it had previously.[5]
Within the Wings of Liberty campaign, the jukebox can be turned on and off.[1]
Revolution Overdrive: Songs of Liberty
Edit
The songs are available as an album from iTunes.[6][7] In addition, the album contains Blood and Glory, Most Wanted and a black label version of Suspicious Minds.[8]
References
Edit
Community content is available under
CC-BY-SA
unless otherwise noted.