Khalani is the language "spoken" (via telepathy) by the protoss.[1] Other races "hearing" Khalani being 'spoken' hear meaningless sounds, though protoss possess the ability to translate the language via telepathy.[2] The language's written form is glyph-based.[3]
Both the Khalai and Nerazim speak Khalani, though some phrases are only found in the vocabulary of one of the two kindreds. Some phrases exist in both cases, but may have different meanings based on the culture of the kindred in question.[4] The Tal'darim also appear to speak some variation of Khalani.[5]
Protoss would also sometimes speak older, tribal tounges of the language in their psionic communication. Terrans translating Khalani to English would often substitute these with Latin.[6]
Translations
Some of the quotes from StarCraft II are translated in the game's editor, in the Conversations tab of the Data module.[7]
Phrases
Single Words/Terms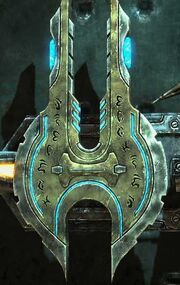 Untranslated
Acknowledgements
These phrases are uttered by protoss units in the games when first selected. Their meanings presumably vary, but all are linked to a protoss acknowledging a superior's presence in some form or another. Note that the spelling of many of these phrases is based on conjecture.
Affirmations
These phrases are stated in the games by protoss units when affirming given orders. The exact meanings, which could range from passive to aggressive in intent, are unknown.
Other
Non-Canon
This article or section contains information about StarCraft: Ghost, which has been declared non-canon. Elements may be taken as 'flavor lore' however.
The content may be significantly out of date. Please do not add speculation to this article, and remember to cite a published source for details.
Trivia
Blizzard Entertainment maintains a real-world dictionary of Khalani. This also ensures that protoss names meet their specifications.[83] The idea of releasing a Khalani sourcebook has been touched upon.[4]
References
↑ 1.0 1.1 1.2 1.3 1.4 1.5 1.6 1.7 1.8 1.9 Golden, Christie (November 27, 2007). StarCraft: The Dark Templar Saga #2: Shadow Hunters. Simon & Schuster (Pocket Star). ISBN 0-7434-7126-1.
↑ Metzen, Chris & Samuel Moore (March 29, 1999). "StarCraft: Revelations." Amazing Stories 596 (Spring): 20-27.
↑ 2014-12-01, BlizzCon 2014 LotV Lore Community Corner Discussion with James Waugh. YouTube, accessed on 2015-04-03
↑ 4.0 4.1 2012-12-05, Community Lore Discussion BlizzCon 2015. StarCraft Legacy, accessed on 2015-12-28
↑ StarCraft Beta-The Protoss (archived) Accessed on 2019-04-24
↑ 7.00 7.01 7.02 7.03 7.04 7.05 7.06 7.07 7.08 7.09 7.10 7.11 7.12 7.13 7.14 7.15 7.16 7.17 7.18 7.19 7.20 7.21 7.22 7.23 7.24 7.25 7.26 7.27 7.28 Blizzard Entertainment. StarCraft II Map Editor. (Activision Blizzard) (in English). October 18, 2012
↑ 8.0 8.1 8.2 8.3 Golden, Christie (June 30, 2009). StarCraft: The Dark Templar Saga #3: Twilight. Simon & Schuster (Pocket Star). ISBN 978-0-7434-7129-9.
↑ 12.0 12.1 12.2 Elder, Josh (w), Ramanda Kamarga (p), Faisalz et al (i). "Voice in the Darkness." In StarCraft: Frontline: Volume 4 (paperback binding), pp. 72-113. Tokyopop, October 1, 2009. ISBN 978-1427-81698-6.
↑ 18.0 18.1 18.2 Vorazun, StarCraft II: Legacy of the Void Cite error: Invalid <ref> tag; name "Vorazun" defined multiple times with different content
↑ 20.0 20.1 20.2 20.3 Elder, Josh (w), Ramanda Kamarga (p), Angie Nathalia (i), Junadi (i). "Do No Harm." In StarCraft: Frontline: Volume 3 (paperback binding), pp. ?-?. Tokyopop, July 1, 2009. ISBN 1427-80832-5.
↑ 21.0 21.1 21.2 High templar, StarCraft Cite error: Invalid <ref> tag; name "SC1HT" defined multiple times with different content
↑ 23.0 23.1 23.2 23.3 23.4 High Templar, Starcraft II Cite error: Invalid <ref> tag; name "SC2HT" defined multiple times with different content
↑ Burns, Matt. "Children of the Void." (Oct. 14, 2015). Blizzard Entertainment. StarCraft Lore: Children of the Void Accessed 2015-10-14.
↑ 26.0 26.1 26.2 Kogge, Michael. "Carrier." (May 09, 2013). Blizzard Entertainment. StarCraft Lore: Carrier Accessed 2013-05-09.
↑ Colossus Shirt Blizzard Shirts Accessed 5-14-2019
↑ (September 25, 2015) Blizzard Entertainment. StarCraft II: Legacy of the Void: Reclamation lore video (in English).
↑ 30.0 30.1 30.2 30.3 30.4 30.5 Underwood, Peter, Bill Roper, Chris Metzen and Jeffrey Vaughn. StarCraft (Manual). Irvine, Calif.: Blizzard Entertainment, 1998.
↑ Mesta, Gabriel (July 1, 2001). StarCraft: Shadow of the Xel'Naga. Simon & Schuster (Pocket Star). ISBN 0-671-04149-5.
↑ Golden, Christie. StarCraft: The Dark Templar Saga #1: Firstborn. Pocket Star Books, May 2007. ISBN 0-7434-7125-3.
↑ 33.0 33.1 Golden, Christie (May 22, 2007). StarCraft: The Dark Templar Saga #1: Firstborn. Simon & Schuster (Pocket Star). ISBN 0-7434-7125-3.
↑ 1998-06-26. Elderlands. StarCraft Compendium Map Archives. Accessed 2007-06-30
↑ Blizzard Entertainment. StarCraft II: Legacy of the Void. (Activision Blizzard). PC. Talandar (in English). 2015.
↑ 2011-09-29, Blizzplanet Review: StarCraft: Ghost — Spectres. Blizzplanet, accessed on 2011-10-02
↑ 61.0 61.1 Urun, StarCraft II
↑ Cute But Deadly ZERATUL Starcraft Blizzard SDCC Comic Con exclusive Happy Worker Inc, 2014
↑ 78.0 78.1 Morrissey, Paul, ed. StarCraft: Frontline: Volume 1. Tokyopop, August 1, 2008. ISBN 1427-80721-3.
↑ 79.00 79.01 79.02 79.03 79.04 79.05 79.06 79.07 79.08 79.09 79.10 79.11 79.12 79.13 79.14 79.15 79.16 79.17 79.18 79.19 79.20 79.21 79.22 79.23 79.24 79.25 79.26 79.27 79.28 StarCraft: Ghost - High Templar Quotes, Youtube.com Accessed on 2-17-2020
↑ 80.0 80.1 StarCraft: Ghost - Purifier Quotes, Youtube.com Accessed on 2-17-2020
↑ 2014-18-12, StarCraft: Ghost Videoes Extracted. Google Drive, accessed on 2020-02-16
↑ 82.0 82.1 82.2 StarCraft: Ghost - Zealot Quotes, Youtube.com Accessed on 2-17-2020
↑ 2009-09-08, Blizzplanet Live Chat with Tokyopop: Starcraft: Frontline Vol. 4. Blizzplanet, accessed on 2009-10-10