"The
Nerazim
have long used khaydarin monoliths to protect our lands. I see your phase-smith has become familiar with them."
Khaydarin monoliths are powerful protoss defensive structures. They were used primarily on Shakuras and then adopted by the Daelaam during the End War.[1]
Game Unit
Edit
The khaydarin monolith deals a massive 100 damage a shot and has a long 13 range, equivalent to a siege tank, but has a long cooldown between attacks. It also occupies a large 3x3 space.
The monolith works well as a complement to the photon cannon; the cannons deal lower damage but fire faster, and are cheaper to build. Thus the monolith can help bring down powerful and/or long-ranged enemy targets better with its higher damage, while the photon cannons take care of more numerous, weaker enemies. In larger numbers, the khaydarin monoliths can bring down hybrid units very quickly.
When using khaydarin monoliths, shield batteries are highly advised, as the monoliths have a long warp-in time and are quite expensive.
Co-op Missions
Edit
Karax is able to build khaydarin monoliths in Co-op Missions. Additional upgrades for them are unlocked when Karax reaches Level 6. Karax is instantly able to warp in khaydarin monoliths upon reaching Level 11. Zeratul gains a variant named the tesseract monolith.
Campaign Acquisition
| | |
| --- | --- |
| Unlock | Reach Karax Level 8 |
Increases the attack rate of photon cannons and khaydarin monoliths by 25%.
Campaign Acquisition
| | |
| --- | --- |
| Unlock | Reach Karax Level 8 |
Known Variants
Edit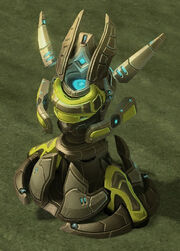 Karax's khaydarin monolith in Co-op Missions has more standard Daelaam colors instead of darker Nerazim style in the campaign.
References
Edit