"A strong, defiant protoss scientist. She is not a warrior, but is determined to retain her dignity and fight to the end."
- Character description(src)
Lasarra was a female protoss scientist. She was a relatively fearless individual, unafraid of speaking her mind.[2]
Biography
[
]
Lasarra was stationed on Kaldir when it was attacked by zerg led by Sarah Kerrigan. The protoss were defeated; Lasarra was captured during the attack on Kaldir at the request of Abathur, who wanted to experiment on her even though it was known that the protoss could not be infested. Kerrigan agreed to spare Lasarra's life until she found a use for her.[3]
During her time onboard Kerrigan's leviathan, Lasarra interacted with Kerrigan a number of times. Kerrigan tried to justify her actions on Kaldir, saying that if the protoss could contact Shakuras, Kerrigan would not have been able to survive. However, Lasarra is unconvinced, saying that self-preservation is no justification for killing so many innocents. Eventually, Kerrigan admitted she could not and would not justify her actions, stating that both the zerg and protoss were killers.[4][3]
Eventually, as one of the protoss ships was able to break through the zerg blockade, Lasarra was implanted with a special larva and allowed to warp in to that ship. The larva devoured her and then other lifeforms being stored on the ship, evading detection. It eventually transformed into a broodmother, Niadra, which bred a new brood that infested the ship, killing every protoss on board.[5] Kerrigan later showed some regret over Lasarra's death, as she told Izsha that she did not enjoy having to kill her.[6][7]
Development
[
]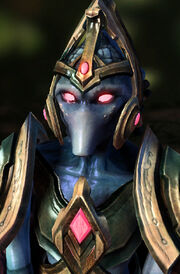 Lasarra appeared in press kit data for BlizzCon 2011. However, she is only labeled as a "protoss NPC."[8] According to second-hand sources at the event, Lassara's story played out differently here—during her time onboard Kerrigan's leviathan, Lassara interacted with Kerrigan a number of times. Lassara was originally antagonistic towards her captor, remembering the carnage Kerrigan had inflicted as the Queen of Blades—assertions that left her now de-infested captor heavily distraught. Over time however, Lassara's hostility began to wane, and she began to talk about her research and colony she had on Kaldir. She even expressed slight gratitude to Kerrigan for sparing the lives she did on Kaldir.[2]
Trivia
[
]
Lasarra's unit model is reused in "The Spear of Adun" to represent Selendis.[9]
References
[
]