The machine shop is an add-on to the terran factory building. The machine shop allows the user to build more advanced armor units such as the siege tank as well as upgrades for the various units that are created in the factory[1][2]. It has been in use since the Guild Wars.[3]
The machine shop does not appear in StarCraft II, as the tech lab addon has replaced its function in producing all advanced units, including those made at the factory.
Game Structure
[
]
Researched Abilities
[
]
Researched Upgrades
[
]
StarCraft: Brood War
[
]
Development
[
]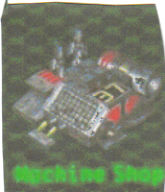 In the StarCraft beta, the machine shop functioned as a its own structure, completely separate from the factory.[4] At this time it appeared to have a number 37 on the top.
Images
[
]
References
[
]