Raise a Floppa - The Loop
Play Sound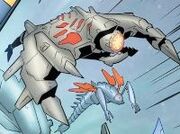 The mecha battlecarrier lord is a Mecha Swarm robot class created by Egon Stetmann during his time on Bel'Shir.[1]
This article or section contains information derived from Co-op Missions, and should not be considered part of the official StarCraft storyline.
Designed after the brood lord, this zerg replicant combines aspects of the protoss carrier and the terran battlecruiser into one mechanical zerg. They can fire mecha broodlings on ground targets, deploy mecha locusceptors which can swarm ground targets, and fire a single massive burst from its Stetmato cannon. They evolve from mecha corruptors.[2]
Game Unit
[
]
The mecha battlecarrier lord a flying air siege attacker for Egon Stetmann in Co-op Missions that combines a brood lord, carrier, and battlecruiser. They can use the standard brood lord attack on ground units, with added mecha locusceptors to increase their ground damage. They also can be upgraded to use a Stetmato cannon, which deals heavy single target damage. However, unlike the brood lord they must construct their ammunition beforehand, which costs energy. As such in order to maintain themselves in combat, they should be kept near stetellites in order to recharge their energy, or near mecha infestors to grant them more energy.
Mecha battlecarrier lords can be "recycled" when they die, which will respawn mecha corruptors.[2]
Abilities
[
]
Upgrades
[
]
Development
[
]
Initially, the name of the "Battlecarrier Lord" was deemed too silly by the Co-op Missions team and used as a placeholder for the unit. However, the team decided that the ridiculousness name fit Stetmann, and kept as the true name for the unit.[3]
Trivia
[
]
A "battlecarrier" is a hypothetical hybrid ship that combines the armaments of a battleship with the aircraft-launching capabilities of a carrier. The Mecha Battlecarrier Lord does not quite fulfil this classification, as it lacks the majority of a battlecruiser's weaponry, only replicating its Yamato cannon.
References
[
]