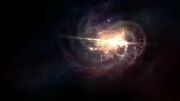 The Milky Way, or simply the Galaxy, is a barred spiral galaxy that forms part of the Local Group.
A great deal of the galaxy's history has been shaped by the xel'naga, a species from beyond the galaxy who traveled to the Milky Way, where they seeded life on countless worlds and uplifted numerous species such as the zerg and protoss.[1] They have been referred to as "the most powerful species the galaxy has ever known."[2] Nevertheless, they met their end at the hands of the zerg.[1]
Currently, protoss, zerg, and humanity stand as the galaxy's dominant species.[3] In a possible future however, the galaxy was "cauterized" by the Dark Voice, paving the way for it to shape all life in its own image.[4][5]
Regions
The galaxy can broadly be divided into its center/core, its spiral arms, and its fringe—the points of origin for zerg, humanity, and protoss, respectively.[1] Areas of space can be further sub-divided through sectors, quadrants, planetary regions and star systems.
References
↑ 1.0 1.1 1.2 Underwood, Peter, Bill Roper, Chris Metzen and Jeffrey Vaughn. StarCraft (Manual). Irvine, Calif.: Blizzard Entertainment, 1998.
↑ Mesta, Gabriel (July 1, 2001). StarCraft: Shadow of the Xel'Naga. Simon & Schuster (Pocket Star). ISBN 978-0671-04149-6.
↑ (2007). StarCraft: The Board Game (manual). Fantasy Flight Games.
↑ Gillen, Kieron (w), Hector Sevilla (p, i). "A Ghost Story." In StarCraft: Frontline: Volume 2 (paperback binding), pp. 122-169. Tokyopop, January 1, 2009. ISBN 978-1427-80831-8.
↑ Blizzard Entertainment. StarCraft II: Wings of Liberty. (Activision Blizzard). PC. Mission: Wings of Liberty, In Utter Darkness (in English). 2010-07-27.
Community content is available under
CC-BY-SA
unless otherwise noted.