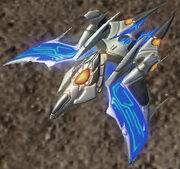 "Righteous fury burns brightest."
The mirage is a Purifier phoenix variant available in the single-player campaign of StarCraft II: Legacy of the Void.
The mirage are Purifier vessels equipped with phasing technology that would be fatal should a biological pilot attempt to use it. This technology allows the mirage to temporarily become incorporeal when engaging enemies, allowing them to avoid enemy fire.[1]
Game Unit
Edit
The mirage is the Purifier variant of the phoenix, serving as the third starfighter option for the player with the phoenix and the corsair. Their passive phasing armor ability greatly improves their longevity in battle by letting them avoid a substantial amount of enemy fire on them. This makes the mirage best suited for prolonged frontline combat, and the most economical starfighter since it is harder to destroy. However, it is not as good at supporting ground armies; while it retains the phoenix's Graviton Beam, the phoenix is simply better than the mirage at using it due to being able to Graviton Beam two targets at once.
Abilities
Edit
Lifts an enemy unit into the air, preventing it from moving, attacking, or using abilities.
Usage
| | |
| --- | --- |
| Hotkey | G |
| Duration | 10 |
| Cooldown | 30 |
When under attack, the unit temporarily phases out of existence, making it immune to damage for a short time.
Usage
| | |
| --- | --- |
| Duration | 2 |
| Cooldown | 5 |
Co-op Missions
Edit
Karax is able to build mirages.
Increases mirage's attack range by 2.
Campaign Acquisition
| | |
| --- | --- |
| Unlock | Initially available. |
The mirage becomes temporarily immune to damage when attacked.
Usage
Passive
| | |
| --- | --- |
| Cooldown | 5 |
Campaign Acquisition
| | |
| --- | --- |
| Unlock | Reach Karax Level 14 |
References
Edit