You may be looking for:
The monolith is a structure. During the development of StarCraft II: Wings of Liberty, it was called the dark pylon,[4][5] then the obelisk.[6] The name "obelisk" was given to another building.
During the Second Great War, Raynor's Raiders encountered monoliths aboard a derelict xel'naga worldship. The monoliths were erected around a Tal'darim-guarded vault containing a component to a xel'naga device.[7]
Game Unit
Edit
Monoliths have no abilities and behave like pylons. They may not be clicked on or selected.
Development
Edit
The following section contains information from a previous version of StarCraft II which is no longer valid.
Proton Charge redirects here. You may be looking for the terran device.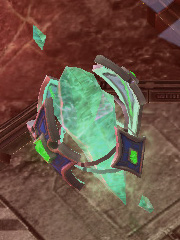 The monolith was a Dark Templar structure.[6]
References
Edit