GTA: The Criminal Enterprises - The Loop
Play Sound
"It's some kind of energy sword prototype... Looks useful."
"You should let me examine it."
"Of course. After some field testing..."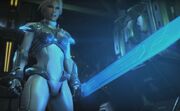 The monomolecular blade is a prototype terran energy sword.
Overview
[
]
Monomolecular blades utilize the wielder's psionic energy to further hone an edge that has already been sharpened to a microscopic degree, allegedly only one molecule thick at the edge, allowing it to cut through both physical armor and energy shields.[1] The blade's color shifts depends on its user—blue for ghosts, red for spectres.[2]
A monomolecular blade was discovered in a Defenders of Man facility on Tarsonis by Agent Nova Terra. Nova then used the device to aid her in maneuvering through the facility undetected.[1] Later, renegade spectres from the secret Tartarus lab also used monomolecular blades after stealing the Griffin, and utilized them in their battle against Nova and her dark templar allies.[2]
Game Effect
[
]
The monomolecular blade is a choice for Nova's weapon slot in Nova Covert Ops after completing "Enemy Intelligence."[1] When playing as Nova in Co-op Missions, the Holo Decoy summoned by her will wield the Monomolecular blade, and is able to use its associated Dash Attack.
Melee weapon. Ignores enemy armor and shields. Can use Dash Attack to dash forward a short distance and deal 50 damage to enemy units in Nova's path. Can attack ground units.
Innate Ability: Dash Attack:
Dashes forward and deals 50 damage to enemy ground units in a straight line. Does not damage friendly units.
Usage
| | |
| --- | --- |
| Hotkey | Q |
| Cost | 50 |
Monomolecular blade
Strength

100

Range

Melee

Cooldown

1.5
References
[
]