The oracle uses a modified star relic model, due to the art team's fondness for the cut unit. The oracle originally had a gold and blue color scheme, but switched to a Dark Templar color scheme when the tempest's color was changed from Nerazim-oriented color to gold, and the development team felt that one of the two new flying units should use the silver and green coloring.[1]
Abilities
Edit
The oracle's Time Warp ability was moved to the mothership core in January 2013.[2]
The oracle's stasis ward ability could once be cast manually. However, the developers noticed players stacking the ability several times, and then manually detonating them over time to indefinitely leave units in stasis. The manual cast was removed, as Legacy of the Void is meant to grant constant combat.[3]
Cut Abilities
Edit
Phase Shift: Phases out a unit for approximately 45 seconds, preventing it from attacking, using abilities, researching, or building[4] (cut by June, 2012).[5]
Dustin Browder expressed concern about the cloaking ability during development, specifically how early its availability was.[7]
Pre-Ordain was removed in the Heart of the Swarm beta.[12]
Void Siphon
The ability has an energy cost of 50 and a range of 7. It is channeled against an enemy structure. Until canceled, it deals 3 damage and gives the player 3 minerals per second but does not subtract minerals from the enemy player.[13]
Bosonic Core was removed during the beta.[12]
The oracle once possessed a Phase Shield, an area-of-effect defensive ability. The ability lasts 5 seconds. It removed and rendered units immune to these effects: Fungal Growth, Corruption, Contaminate, Graviton Beam, Concussive Shells, Abduct, Revelation, Vortex, and 250mm Strike Cannons. It removed the anti-cloaking effect of EMP but not the damage dealt. It would prevent a unit from being affected by Neural Parasite but would not remove the effect.[12] This ability was removed during development.[13]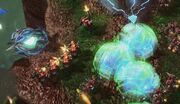 Thie entomb ability was removed.[16]
References
Edit
Community content is available under
CC-BY-SA
unless otherwise noted.